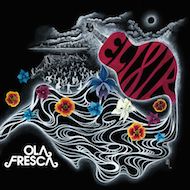 WORLD MUSIC CENTRAL 
"Elixir is clearly one of the best albums of the year!" 

SONGLINES UK 
"Hot, Modern Salsa! Not a dull moment. 4 Stars!" 

PBS NEWS AND CULTURE – KPCC Southern California 
"Exciting! Swings throughout across the borders (of salsa and son), obliterating any supposed differences!" 

SOLAR LATIN CLUB Cali, Colombia 
"Explosive!" "An invitation to brotherhood that moves masses"

released June 1, 2015 

Produced by Jose Conde and Andy Taub
Download
~
Order CD
BEST LATIN ALBUM 2008
Released in 2007
(R)EVOLUCION
was recorded live in studio to analog tape!
It showcases songs and arrangements by Jose Conde as played by the amazing, eclectic
Ola Fresca band.
It features an array of incredible musicians
and special guests including Meter's super funky drummer Ziggy Modeliste, the legendary Cuban trombone player Generoso Jimenez.
and NY Salsa Trombonist Jimmy Bosch.
This PIPIKI RECORDS Produciton was licensed to MR BONGO UK and distributed by EMI.
---